Friends & Colleagues -

The start of the 2017-18 school year is just a few weeks away, bringing both excitement and anxiety to students, teachers and parents alike. While new supplies are purchased and classrooms get rearranged, let us not forget that the start of every school year is a fresh opportunity to reinvest hope in our schools and for the potential of education to liberate and support our students to their best selves. Education remains our best mechanism towards the just and equitable Good Society. We can and should debate specific policies and practices, all with an eye towards the future and what's best for our students and their ultimate self-determination. As always, your feedback is welcomed, as are social media and other sharing. Here's this week's roundup:
[LOCAL: NEWS] New Mexico PARCC Scores Released Showing Slight Statewide Improvement. Last Monday NMPED released our statewide PARCC results which show marginal improvement over last year for the 214,870 students who took the exam this spring. Since 2015, the first year of PARCC, New Mexico has experienced growth of 2.2% in English Language Arts (ELA) and 2.3% in Math. The biggest gains in ELA are seen with American Indian students (+4%), female students (+3%), economically disadvantaged students (+2.9%) and Hispanic students (+2.4%). While the value in making personnel decisions based on test scores should be and is limited (to 30% in New Mexico as of this school year), one of the most important aspects of PARCC, or any statewide standardized exam, is the light shined on our most disenfranchised students. Without this information we don't know that only 23.8% of Hispanic students are considered proficient in ELA and on course for college. We also wouldn't know that only 21.5% of our low-income students are proficient and only 17.6% of our American Indian students are as well. This information is absolutely vital in working towards equity and any discussion of removing this data is not focused on our most vulnerable students and how we will serve them better. The results also show us that in places and districts where the inequity is tackled head on and reforms are embraced (whether though NMPED or not) that progress will be made, in districts such as Gadsden, Gallup-McKinley County and Farmington, which have all seen marked growth over the past two years.
 
[LOCAL: OPINION] Looking In: Helping Young People Of New Mexico. As New Mexico's ESSA plan continues to be lauded as one of the best in the nation, including The Collaborative for Student Success and Results for America, a select few have begun to criticize this achievement by attempting to discredit the work of the organizations who have issued the reports. A classic example of attacking the speaker instead of their argument. So it's great to see a letter from Scott Sagrad, the K-12 Policy Director of the Center for American Progress, reflect on his experience as a peer reviewer for state ESSA plans.
 
[NATIONAL: OPINION] Together, Technology And Teachers Can Revamp Schools. The Economist warns us that the science of learning (research-backed, not unproven, pseudoscientific ideas such as "learning styles") must be at the center of our attempts to personalize and digitize education.
 
[NATIONAL: RESEARCH] Data Show Charter School Students Graduating From College At Three To Five Times National Average. About a decade ago, 15 years into the public charter school movement, a few of the nation's top charter networks quietly upped the ante on their own strategic goals. No longer was it sufficient to keep students "on track" to college. Nor was it enough to enroll 100% of your graduates in colleges. Now many of these charter school networks, which almost exclusively educate low-income and students of color, are seeing returns on these efforts in the form of their students graduating college at impressive rates that are 3x-5x the national average.
 
[NATIONAL: PODCAST] Where Teacher Evaluation Reform Was A Home Run. In this week's podcast, special guest Thomas Toch, director of FutureEd at Georgetown University, joins to discuss teacher reform in Washington, D.C., where big changes were made without nearly the same animosity and discontent we continue to see in New Mexico.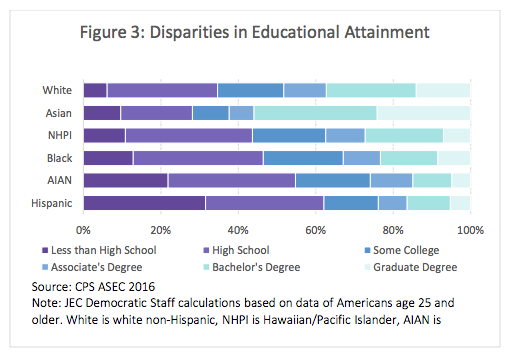 A new report finds that while more Americans are attending and completing degree programs, "sharp divisions" in access remain "by income level, race, ethnicity, and geography." The report calls on Congress to "close educational attainment gaps" to ensure "All Americans have the ability to find a good job that pays well and provides a foundation for their family… Making college more affordable, giving students access to better information about their options, and better preparing high school students for the rigors of college are all goals that Congress must pursue."